---

ETKO Machine, Inc.
---
ETKO Machine, Inc. has been servicing local industries since 1969 and has provided them with a wide range of services. ETKO Machine, Inc. can produce prototype/small batch items for testing and then continue with the production run after approval. We do this while maintaining a competitive price structure and without sacrificing quality. Many industries have been attracted to ETKO's versatility and experience. So if you require high quality, close-tolerance, European-style workmanship as well as American efficiency, turn to ETKO Machine, Inc. Twenty-seven years of experience speaks for itself!
---
Modern Equipment
For Quality and Close-Tolerance Machining
| | |
| --- | --- |
| | Pictured to the left is the Hurco CNC milling machine. |
| | |
| --- | --- |
| To the right is the EX-CELL-O Mill featuring a 9"x24" table and digital readout. | |
The Hitachi Seiki CNC lathe pictured below produces the highest quality machined parts our customers demand. ETKO utilizes the latest in modern equipment needed for excellence in product manufacturing.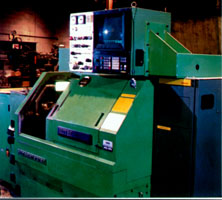 | | |
| --- | --- |
| ETKO specializes in precision machined items, lead screws, and nuts. We handle both the new and the repair of the old--up to 13 feet in length. Our expertise covers all types and styles of threads as well as single, double, triple, and quadruple leads. | |
Make it right and deliver it on time! These are two of the key commitments of each ETKO craftsman. Our modern equipment and skilled personnel consistently produce high quality machined parts in the tradition of European excellence.

Our quality assurance program pledges careful study of your requirements in order to deliver carefully made, close-tolerance parts. ETKO Machine strives to work to MIL-45208A specifications.
---
Old World Craftsmanship
New World Technology
Ethel, George, and Julius Koroshazi have all been involved in the family business at ETKO Machine since 1968. ETKO has long enjoyed the reputation for quality work and knowledgeable personnel. Please contact us today by e-mail or by conventional means for your next quotation.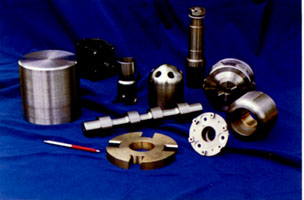 ETKO Machine handles Acme threads, prototypes, light assemblies, and CNC Turning and Milling. Producing quality parts for on-time delivery.


---
| Home | About Us | Equipment List | Inquiries | Reaching Us |
---
Copyright 1997 by ETKO Machine, Inc.
Site designed by CMH Electronics.
Last updated May 16, 1997.